Yusei Kikuchi's first two seasons in the Major Leagues didn't go as either the Mariners or the left-hander himself hoped. After establishing himself as one of the premier pitchers in Japan by pitching to a 2.77 ERA in parts of eight seasons (2.51 in his final three years), he tested international free-agent waters as one of the most coveted talents in recent memory.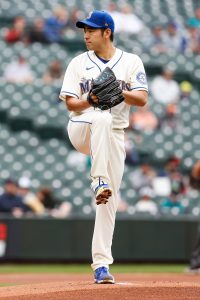 Beyond his excellent numbers in Japan and his arsenal of what many scouts believed to MLB-caliber offerings, Kikuchi was a free agent at just 27 years of age. Unlike many of his countrymen, he was seeking his first opportunity in North America while firmly in the midst of his prime seasons. The level of interest and intrigue in the left-hander was readily apparent both in the size and the structure of his contract. Kikuchi hired the Boras Corporation to represent him as he looked to jump to the big leagues and eventually secured a four-year, $56MM guarantee from the Mariners.
Put rather simply, Kikuchi's first year in the Majors went poorly in just about every regard. He remained healthy, but Kikuchi struggled in adjusting from pitching every sixth day in NPB to every fifth in MLB. The Mariners did, at times, find ways to get him an extra day's rest, and they even gave him a few starts that were short by design. (He tossed just one inning in an April 26 "start," for instance, as he adjusted to his new workload.)
The numbers weren't there. He made 32 starts but pitched to a 5.46 ERA and 5.17 SIERA. His 6.9 percent walk rate was a good bit better than league average, but Kikuchi also had a well below-average 16.1 percent strikeout rate and was tagged for a whopping 36 home runs in just 161 2/3 frames. It was not a great debut. Mariners fans might've hoped that a second season would produce better results as Kikuchi overcame his adjustment phase, but he came back with a 5.17 ERA in 47 innings (nine starts). He understandably drew a fair bit of criticism.
However, there was also good reason to believe that Kikuchi's 2020 season marked something of a turning point. While the ERA wasn't great, the signs of a forthcoming breakout weren't exactly hidden.
Kikuchi's average four-seam velocity jumped from 92.6 mph to 95.1 mph in 2020, and he began using an effective cutter that wasn't in his 2019 repertoire. His strikeout rate jumped from 2019's 16.1 percent to 24.2 percent, and his ground-ball rate spiked from 44 percent in '19 to 52 percent in 2020. The home run troubles that plagued him in 2019 were gone; Kikuchi yielded just three round-trippers in those 47 innings. Despite the improvements in many of his underlying stats, however, Kikuchi was hindered by an elevated 10.3 percent walk rate and a 59.9 percent strand rate that looked rather fluky.
Just as many of those indicators suggested, Kikuchi looks like a different pitcher in 2021. He's started 15 games and ridden a 3.18 ERA, 25.4 percent strikeout rate, 8.5 percent walk rate and career-best 53.8 percent ground-ball rate to his first career All-Star nod. Kikuchi has allowed three or fewer runs in 13 of his 15 starts, with the lone exception being a pair of five-run hiccups in his third and fourth starts of the season. Over his past 11 trips to the mound, Kikuchi has logged a 2.33 ERA while averaging 6 1/3 innings per start.
The transformation is striking, although it's worth noting that similarly to 2020, when he pitched better than his ERA indicated, Kikuchi probably isn't quite this good. He's benefiting from a tiny .221 average on balls in play and a huge 82.9 percent strand rate that, like his 2020 mark, looks unsustainable (just in the other direction). Still, if you combine Kikuchi's 2020-21 results, it's a pretty nice-looking pitcher without too many red flags: 140 1/3 innings, 3.85 ERA, 3.97 SIERA, 25 percent strikeout rate, 9.1 percent walk rate, 53.1 percent ground-ball rate. The combined .251 BABIP is a bit lower than should be expected, but few pitchers can boast that combination of missed bats, solid control and strong ground-ball tendencies.
All of this is particularly notable given the aforementioned unique structure of Kikuchi's contract. He's technically guaranteed $56MM from 2019-22, but the Mariners will have a pivotal decision at season's end. They can choose to exercise a quartet of one-year, $16.5MM options all in conjunction with one another — effectively a four-year, $66MM extension. If not, Kikuchi will have a $13MM player option that he can decline in order to test free agency. (Seattle could make him a qualifying offer at that point.)
The Mariners are in the late stages of a multi-year rebuild and will surely be aiming to contend beginning in 2022. But while they've begun to see a growing number of position prospects emerge at the MLB level, the pitching looks far less certain. Justus Sheffield is still looking to settle in as a consistent producer. Logan Gilbert has looked sharp after a few rocky outings early in his MLB career. Chris Flexen has proven to be a shrewd signing thus far. Marco Gonzales has battled injuries in 2021 and taken a step back. Top prospects George Kirby and Emerson Hancock shouldn't be expected to be too far behind Gilbert in terms of MLB readiness, but the rotation could certainly use some stability — which Kikuchi has provided to this point in the season.
As such, there's good reason for the Mariners to want to keep Kikuchi around, though the question will be whether that four-year, $66MM price point proves palatable. The team has just $19MM committed to the 2022 payroll beginning in 2022, so Seattle can certainly afford to keep Kikuchi around and still make another notable addition to the rotation either via free agency or trade this winter. The $66MM price point is roughly in line with recent deals signed by Nathan Eovaldi (four years, $68MM), Miles Mikolas (four years, $68MM), Dallas Keuchel (three years, $55.5MM) and Alex Cobb (four years, $57MM). If Kikuchi continues pitching near his current level, a deal in that range wouldn't be unreasonable in free agency.
That's particularly of note, too, because if the Mariners choose not to pick up their end of the arrangement, Kikuchi currently looks like a lock to turn down that $13MM player option, given how well he's pitched. He'd quite likely reject a qualifying offer as well, based on the strength of his performance.
Other teams could try to pry Kikuchi away from the Mariners with a strong trade offer, but if he's pitching well enough to carry substantial trade value, that probably means he's also pitching well enough for the Mariners to look favorably on that four-year extension. Trading a player with such a virtually unprecedented conditional option would also be immensely complicated. It'd be tough for Seattle to extract considerable value when the best-case scenario is having the exclusive right to extend Kikuchi at a fairly notable rate.
There's also downside for an acquiring team that can't be overlooked; were Kikuchi to incur a substantial injury in the months following a trade, he'd likely exercise that $13MM player option. The Mariners have already taken that risk in issuing the initial contract — but they weren't parting with young talent in addition to taking that risk. Another club would be doing just that, which would weigh down the potential return in a trade.
We're only at the season's halfway point, so there's still time for Kikuchi to make this decision look more straightforward — either with a continued run of dominance or a return to his 2019-20 form. But the fact that he's begun to make the four-year option/extension route look viable in and of itself is a testament to the strength of his season. He's gone from looking like a possible front office misstep to the potential rotation cornerstone the Mariners envisioned when signing him in the first place.