3:25pm: The two sides have reached an agreement on a two-year deal with a club option, Heyman tweets.
1:36pm: The Marlins and infielder Miguel Rojas are working to finalize a contract extension, MLB Network's Jon Heyman reports (via Twitter). The two sides are "believed" to be discussing a two-year pact with an option for a third season, he adds. Rojas is represented by the Beverly Hills Sports Council.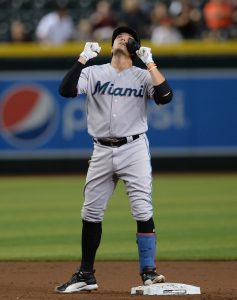 The length of contract in question would buy out Rojas' final season of arbitration, guarantee one free-agent season and give Miami an option for what would be the second free-agent season for Rojas, who'll turn 31 in February. Rojas earned a $3.155MM salary in 2019 and would've been eligible for arbitration for the final time this winter — although his relatively timid offensive profile would've prevented him from cashing in on a substantial raise.
The timing of the contract talks are a bit unusual, but the Miami organization is no stranger to September extensions. The Marlins previously worked out a three-year, $40MM extension for Martin Prado as well as a much smaller one-year extension with Greg Dobbs in the final month of a season (not that either deal panned out particularly well for them). Beyond that, MLB.com's Joe Frisaro tweets that Rojas has "made it clear" to the Marlins that he wants to stay in Miami, and the two sides apparently preferred to skip the potentially contentious arbitration process and proactively work out a multi-year arrangement.
Rojas has quietly become a versatile and fairly valuable player in South Florida, logging time at all four infield positions over the past few seasons while proving to be a difficult strikeout at the plate. He's currently hitting .288/338/.388 with five homers, 27 doubles, a triple and eight steals in 2019, and he's put together a serviceable (albeit still below average) .274/.327/.368 slash through 1316 plate appearances dating back to 2017. In that time, he's punched out in only 12 percent of his plate appearances.
Though he's spent the bulk of his time at shortstop over the past two seasons, Rojas grades out as an above-average defender all over the diamond. He's generated elite numbers at the shortstop position, where he's been credited with +26 Defensive Runs Saved and a +14 Ultimate Zone Rating dating back to 2017, which has helped to offset his lack of power and limited on-base skills.
Looking ahead, Rojas now appears poised to serve as the Marlins' primary shortstop in both 2020 and 2021 — depending on the timeline of prospect Jazz Chisholm. For now, Rojas will likely be joined on the left side of the diamond by continually improving Brian Anderson, with well-regarded prospect Isan Diaz the favorite at second base. Garrett Cooper will likely round out the 2020 infield, although trades and free-agent acquisitions can certainly impact that composition. Rojas had previously been a somewhat under-the-radar trade asset, but a multi-year deal would seemingly take him off the market at least in the short term.