The Philadelphia Flyers have locked up their final restricted free agent, this time agreeing to terms with Travis Konecny. The young forward will sign a six-year contract that will carry an average annual value of $5.5MM. Flyers GM Chuck Fletcher released a short statement on the deal:
We are happy to have Travis under contract for the next six seasons. Travis has shown progression in each of his three seasons and is an integral part of our group of young forwards. His speed, skill and tenacity sets him apart in today's NHL.
Pierre LeBrun of The Athletic—who accurately suggested Bo Horvat's six-year $33MM deal was a comparable this morning—provides the full breakdown:
2019-20: $1.0MM salary + $3.0MM signing bonus
2020-21: $3.0MM salary + $2.0MM signing bonus
2021-22: $5.25MM salary
2022-23: $3.75MM salary + $2.0MM signing bonus
2023-24: $6.0MM salary
2024-25: $4.0MM salary + $3.0MM signing bonus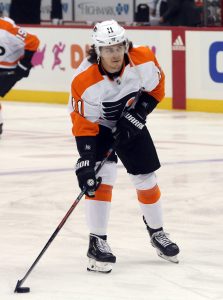 Konecny, 22, was the 24th overall pick in the 2015 draft but quickly acclimated himself to the NHL level. Playing a full season in 2016-17 he showed off some impressive playmaking skills, and has now posted consecutive 24-goal campaigns over the last two years. The talented forward still hasn't been able to break 50 points in a single year, but at least some of the reason for that is a simple lack of opportunity. Konecny averaged just over 15 minutes of ice time last season which was actually a career-high, and wasn't a regular member of the first powerplay unit.
There's no real guarantee that the man-advantage opportunity will increase for Konecny this season, but he should see more time at even-strength. He now slides in as the fifth-highest paid forward on the team, and with a huge investment in him the Flyers should be giving him every chance to succeed. If they do, that $5.5MM cap hit could become a bargain very quickly, especially compared to some of the other numbers his 2015 draft-mates are starting to pull in.
For the Flyers, they now have several pieces of their offense locked in long-term, but will have one more key negotiation coming up next summer with Nolan Patrick. Konecny joins Jakub Voracek, Kevin Hayes, Ivan Provorov, Shayne Gostisbehere and James van Riemsdyk with deals that carry through at least the 2022-23 season, while Sean Couturier and Claude Giroux still have three years each on their respective contracts.
Still, the team doesn't have much cap space as they head into the season. Currently projected at just over $80.3MM in salary commitments for 21 roster players, the team may have to move players up and down regularly to accrue any additional room.
Photo courtesy of USA Today Sports Images