The Philadelphia Flyers moved out some cap space by trading Shayne Gostisbehere yesterday, but didn't wait long to use it up. The team has acquired defenseman Rasmus Ristolainen from the Buffalo Sabres in exchange for Robert Hagg, a first-round pick in this year's draft (14th overall) and a second-round pick in 2023.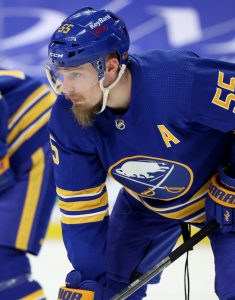 Ristolainen, 26, has just one year remaining on his contract and carries a $5.4MM cap hit. Though he brings the mix of size–Ristolainen stands 6'4″–and offensive upside that teams covet, he has also been routinely derided by more analytical measures. Even in some of the traditional stats like +/-, Ristolainen's overall impact on the game has been poor, registering a whopping -163 over his 542-game NHL career. That entire career has been spent in Buffalo, where things haven't gone well since he made his debut 2013, but at least part of that failure has to fall at the feet of Ristolainen, who has averaged nearly 24 minutes a night throughout his career.
Perhaps with a more reasonable role and strong partner those numbers can improve, but it is still a staggering price for the Flyers to pay after jettisoning Gostisbehere yesterday. The Flyers have now completely made over their defense corps in short order, acquiring Ryan Ellis and Ristolainen while shipping out Hagg, Gostisbehere, and Philippe Myers. The two newcomers now join Ivan Provorov, Justin Braun, RFA Travis Sanheim and prospect Cameron York as the likely top-six in Philadelphia next season, pending any additional moves.
For Buffalo, getting a pick in the first half of this year's first-round is a successful haul for a player that was nearing the end of his time in a Sabres uniform. It wouldn't have made much sense to re-sign Ristolainen as an unrestricted free agent next summer, and his comments in the past suggest he may not have even been open to it. With Jack Eichel and Sam Reinhart also reportedly on the market, the Sabres could quickly amass quite the collection of draft picks and future pieces to build around.
It also confirms that it was the correct decision to protect Ristolainen in the expansion draft, even if it did end up costing them young defenseman William Borgen. The return for Ristolainen, which includes a player in Hagg that is a legitimate NHL option, is obviously much more important.
In Hagg, who has one year left on his own contract before unrestricted free agency and holds a $1.6MM cap hit, the Sabres potentially have another piece they can flip at some point. The 26-year-old has played 236 games at the NHL level including 34 this year for the Flyers, mostly in a depth role. He recorded just five points, but was still a physical presence on the back end, tallying 100 hits in those 34 contests.
After paying that price to get him, the question now becomes whether the Flyers will extend Ristolainen and at what cost. The team is already locked in long-term with Ellis and Provorov, who combine for $13MM through at least 2024-25. With so many other multi-year commitments already on the books at forward, the Flyers will need to be careful how they dole out any money this summer.
Photo courtesy of USA Today Sports Images