Free agency is now just a few weeks away and many teams are already looking ahead to when it opens up.  There will be several prominent players set to hit the open market in late July while many teams have key restricted free agents to re-sign as well. Things aren't completely off the rails in Philadelphia after a disappointing season, but there are some big decisions to be made on the direction of the franchise. 
Key Restricted Free Agents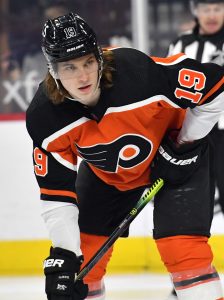 F Nolan Patrick – Can Patrick overcome his injury issues and become a core piece for the Flyers? Some have already labeled the 2017 second-overall pick as a bust and have written him off completely, while others believe with time and patience he could still become a valuable asset. Philadelphia's front office is going to need to make that decision this summer as Patrick enters restricted free agency once again, this time coming off a brutal performance. Last summer, the young forward was negotiating a deal after missing the entire 2019-20 season due to a migraine issue and ended up signing for his qualifying offer amount. Given that he's still ineligible for arbitration and scored just nine points in 52 games, it's hard to see him getting much more than that. If anything, it seems like a change of scenery might benefit both parties, as long as the Flyers received something valuable in return. There's a lot of work to do for the 22-year-old forward to prove he can still be even a middle-six center at the NHL level, let alone the star he was supposed to be.
D Travis Sanheim – There's a trend in these RFA cases for the Flyers, as all of them are players that were supposed to be key contributors this season but ended up having down years. Sanheim was supposed to step into a bigger role for the team in his fourth season and build off the success he had in the past. Instead, he recorded just 15 points in 55 games and registered the worst possession stats of his career. That's not to say Sanheim is playing his way off the team, quite the opposite, as he has established a spot on the second pair, but the breakout that was expected never came. His last deal, a two-year contract in 2019 worth $6.5MM total, was supposed to be a bridge to a big RFA deal this summer. But how big can the Flyers really go for a player that, while valuable, hasn't improved much over the last two seasons. An interesting option for both sides might even be arbitration, giving Sanheim a one-year deal at a slightly higher number. It would leave him just a year from unrestricted free agency, but also give him a chance to show he still does have some of that top-pairing upside left in him.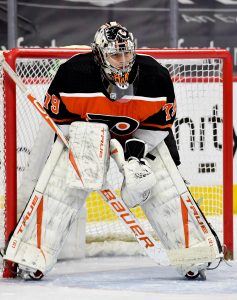 G Carter Hart – Speaking of players coming off down years, it's hard to know just how much money Hart cost himself this season. The 22-year-old goaltender is still the future in Philadelphia, but after posting an .877 save percentage in 27 appearances, just nine of them wins, he's suddenly a risky investment. If the Flyers try to get a multi-year contract done with the young netminder, it will have to be on a contract that makes sense even if he fails to take back the workhorse role. There's no way they can invest starter money in Hart after a season like that, and they won't have to, given he's not yet eligible for arbitration. Philadelphia could slow play this if they want, and force Hart to accept a short-term deal around his qualifying offer, but they could also try to lock him in for a few years at a depressed price, betting on a rebound. It's a tough situation for the player side too, not wanting to throw away too much earning potential, but also knowing that his role in the organization could be in jeopardy with another bad season or two.
Other RFAs: F Pascal Laberge, F Connor Bunnaman, F David Kase
Key Unrestricted Free Agents:
F Samuel Morin – It's tough to watch Morin now, knowing that there was so much potential in that 6'6″ frame when the Flyers selected him 11th overall in 2013. Though his size and physicality were always the focus, the drastically improved skating of Morin was supposed to translate into a true shutdown defender for Philadelphia. Multiple major knee surgeries later and Morin was forced to make the switch to forward, claiming he wanted to be the next Matt Martin, offering a simple game but adding physicality to the lineup every night. It didn't pan out, and Morin played just 20 games this season, recording a single goal (his NHL first) and 38 hits. A positionless part-time enforcer is not what 11th overall picks usually turn out to be, and now Morin hits Group VI UFA status with no clear future.
G Brian Elliott – Hart was bad and Elliott wasn't much better this season, posting his second straight year with a save percentage under .900. It's been a long career for the 36-year-old goaltender and from all accounts, he is beloved in Philadelphia, but the team desperately needs some consistency in net moving forward. There will be many other options for the team to go after this summer, even if the focus is still on Hart getting back to his early performance. If the team comes back with the same duo, it's hard to expect different results at this point.
Other UFAs: F Andy Andreoff, D Matt Niskanen (retired), D Derrick Pouliot, D Tyler Wotherspoon, D Nate Prosser, D Chris Bigras, G Alex Lyon
Projected Cap Space
With more than $68.4MM committed to 17 players, the Flyers have just over $13MM left to work with this offseason. That could grow substantially if they can convince the Seattle Kraken to take Jakub Voracek or trade him elsewhere, but for now they don't have a ton of money to work with. Remember, captain Claude Giroux and top center Sean Couturier are both pending unrestricted free agents after this season and will need extensions if the Flyers want to keep them around, meaning any long-term money they spend in free agency will have to be done with careful consideration.
Photo courtesy of USA Today Sports Images.  Contract information courtesy of CapFriendly.