The Arizona Coyotes have acquired Shayne Gostisbehere from the Philadelphia Flyers. The offensive defenseman has been in the rumor mill for years, but will finally find his way out of Philadelphia. The Coyotes will also receive a 2022 second-round pick and a 2022 seventh-round pick, the Flyers will not receive anything. Philadelphia GM Chuck Fletcher released a short statement on the move:
This was a difficult decision but one we thought was necessary given the reality of the salary cap. Shayne has been a quality player for this organization since the moment he arrived in Philadelphia and has been a part of many special moments in his seven seasons as a Flyer.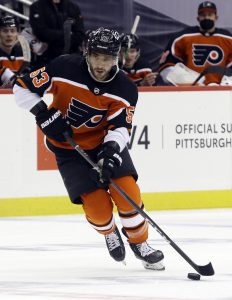 After landing Ryan Ellis just before the trade freeze went into effect, it was clear the Flyers would need to clear some money before the season started. Moving Gostisbehere accomplishes that, as his $4.5MM cap hit will be going to the Coyotes in full.
Ever since he signed a six-year, $27MM contract extension in 2017, there has been speculation about Gostisbehere's future in Philadelphia. He had burst onto the NHL scene in 2015-16 with 46 points as a rookie, finishing second in Calder Trophy voting, and followed it up with an up-and-down sophomore campaign. At first, the new deal seemed like a steal, as Gostisbehere racked up 65 points in 78 games during the 2017-18 season. But then things started to unravel, to the point where he was made a healthy scratch several times over the last two seasons.
This year, he had 20 points in 41 games, still playing a high-risk style that drove offense but sacrificed defense. There's no question that he can be a valuable piece to a team looking for someone to contribute from the back end, but with the other options already in the Flyers system, he had become redundant.
For Arizona though, Gostisbehere not only represents a player that can still contribute, but also a way to recoup some of the assets the organization has lost over the last few years. The team was forced to forfeit two high draft picks after scouting violations and then renounced another after selecting a player that had been convicted of assault. By accepting Gostisbehere's full cap hit, they've added two picks to the system that they can use to build it back up.
The Coyotes, under the leadership of new GM Bill Armstrong, now have seven second-round picks over the next two drafts. Though the 11th pick this year, which originally belonged to them, will still be forfeited, they at least will be able to pump prospects into the organization that have a chance to help them find success in the future. Twice now, along with accepting Andrew Ladd's deal, the team has used cap space as a weapon. It will be interesting to see if Gostisbehere actually plays out his deal in Arizona, or is actually flipped at some point to a contender at a lesser cost.
This story originally referenced a tweet from Elliotte Friedman of Sportsnet that indicated the picks were going to Philadelphia.