Potentially on the verge of his 18th NFL season, Jason Peters has signed a number of contracts. The first of Peters' many re-ups occurred on this date 15 years ago.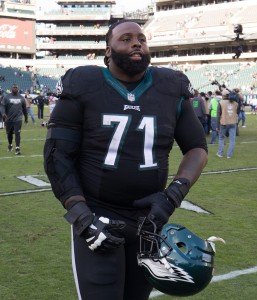 On July 14, 2006, the Bills and their UDFA discovery agreed to terms on a contract that eventually led to the parties splitting up. Peters signed a five-year, $15MM extension during the '06 offseason, this coming after the Bills tendered him a contract worth $425K. Soon outplaying the teams of his $3MM-AAV deal, Peters became a disgruntled Bill.
The Bills initially took a flier on the former college tight end and defensive end, and this only came to be because of lobbying by the future All-Pro blocker's agent, and stashed him on their practice squad for most of the 2004 season. Buffalo broke Peters in on special teams before turning to him as its starting right tackle for much of the '05 slate. Peters had supplanted underwhelming former top-five pick Mike Williams as Buffalo's top right tackle, and the Bills made the move to lock the emerging talent up the following offseason. The team then moved Peters to the left side midway through the '06 campaign. That ultimately proved to be a short-term arrangement.
Dissatisfaction over a $3.25MM salary prompted Peters to hold out in 2008, and after he begrudgingly returned to his Bills post that season, the Eagles came in with a trade offer to acquire Peters just before the 2009 draft. The Bills received 2009 first- and fourth-round picks, along with a 2010 sixth-rounder, in the swap. They used the first of those selections to draft future long-term center Eric Wood 28th overall. Philadelphia handed Peters a six-year, $60MM extension, beginning a fruitful era for their offensive line.
Buffalo went on to churn through few left tackles, including Cordy Glenn, since Peters' departure, while Peters has started 127 games as an Eagle. That was good for the fifth-most in franchise history by a pure offensive lineman. Peters would go on to make two Pro Bowls with the Bills and seven with the Eagles, also receiving two first-team All-Pro honors in Philly. The Eagles also extended their veteran protector in 2014, 2017, 2019, and 2020.
Now at the age of 39, Peters hasn't ruled out playing in 2021. Although his return might not come in Philadelphia, Peters could be an interesting late summer addition for another contender in need.