After missing 21 games in the last two seasons, Eagles guard Isaac Seumalo is healthy and looking to stay that way, according to Eliot Shorr-Parks of 94WIP.com. Not only is Seumalo ready to return to the field, but offensive coordinator Shane Steichen seemed to imply that Seumalo was running with the first team.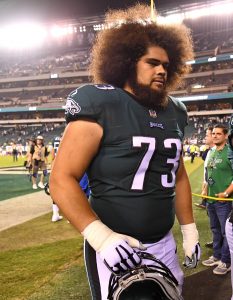 After being drafted in the third-round out of Oregon State in 2016, Seumalo spent two years as a key backup, starting six games while appearing in 23. Seumalo entered the 2018 season as a backup until forcing Stefen Wisniewski to the bench in Week 5. Seumalo would start the next nine games of the season, only allowing Wisniewski back on the field for the last three games of the year, when Seumalo suffered a pectoral injury.
Once Seumalo had established himself as the team's starter at left guard, though, the Eagles locked him up, signing him to a three-year, $15.92MM extension in 2019. Seumalo responded to the new contract by starting every game of the season for the Eagles that year, proving he was a worthy investment. Unfortunately, injuries began to bite the young guard. A knee injury forced him to miss seven games in 2020 on injured reserve. Last year, Seumalo suffered a Lisfranc injury in Week 3 of the season and failed to return to the field for the remainder of the year.
Due to his inability to stay on the field and the back-loaded nature of his extension, Seumalo was seen in some league circles as a potential cut candidate. In the final year of his extension, Seumalo is set to have a cap hit of $7.67MM. The Eagles played Nate Herbig and Jack Driscoll quite a bit in Seumalo's absence last year. Herbig is now with the Jets, but among backup lineman Driscoll are Andre Dillard and Jack Anderson. Philadelphia also drafted Cameron Jurgens in the second round this year. While Jurgens is widely seen as the successor for center Jason Kelce's eventual retirement, he may too talented to keep off the field.
All of this information seemed to point to Seumalo's eventual exit from Philadelphia, but Steichen's comments seem to imply that Seumalo is heading in a more positive direction. If Seumalo can stay healthy and provide the Eagles with a reliable starting guard, Steichen and company may be much more willing to pay the large cap number.