On a busy day for contract restructures and wide receivers, the Eagles dabbled in both areas. They reached an agreement to restructure Alshon Jeffery's contract, the team announced.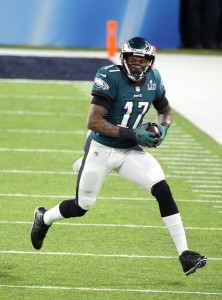 Jeffery agreed to convert most of his $11.75MM 2019 base salary into a signing bonus, per Ian Rapoport of NFL.com (on Twitter). More importantly, $11.5MM of Jeffery's $12.75MM base salary in 2020 now becomes fully guaranteed. No guaranteed 2020 money was previously included in Jeffery's deal.
After entering the offseason without a notable receiver commitment for 2020, at least in terms of guarantees, the Eagles have are now tethered to their Jeffery-DeSean Jackson tandem for next season. Jackson turns 33 later this year; Jeffery will be 30 in February. The Eagles traded for Jackson and gave him $13MM in full guarantees. He is on Philadelphia's 2020 books at $8.9MM.
Philadelphia extended Jeffery on a four-year, $52.25MM deal in December 2017. After missing three games, the veteran wideout posted 65 catches for 843 yards and six touchdowns in 2018. His yardage figure improved from a 16-game 2017, though Jeffery was playing with a shoulder injury that season.
Photo courtesy of USA Today Sports Images.