Second-year Eagles head coach Nick Sirianni is continuing a trend he started in his first year at the helm in Philadelphia. According to Zach Berman of The Athletic, out of the three allowable mandatory practices each team is permitted for annual minicamps, the Eagles will use zero.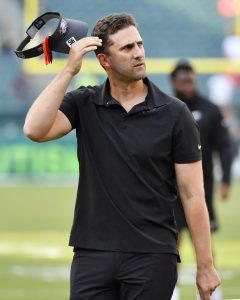 Last year, Philadelphia also had an abbreviated in-person offseason program, as COVID-19 led the team to move most of their activities to a virtual space. Sirianni modified the in-person activities they did end up having, as well, managing the practice load on many of the athletes. This trend continued late in the year. In the back-half of the season, the Eagles moved to walk-throughs on Wednesdays to manage player workloads. This led to a healthier team that, after a 3-6 start to the season, would peak late, going on a 6-2 run to end the year and make the playoffs.
So far this year, Philadelphia has taken it easy in voluntary organized team activities (OTAs). The NFL permits 10 practice sessions for OTAs. The Eagles will hold six total practice sessions; three were held last week and three will happen this upcoming week.
The sessions in the OTAs won't even utilize 11-on-11 play, which the league allows during the period. Sirianni explained, "We're definitely doing seven-on-sevens. We're transitioning away from 11-on-11s. We're not going to do those this year."
There are a couple of reasons for Philadelphia to function this way. The obvious reason is health. Sirianni claimed that they modified their offseason program "with the players' health and safety in mind." While health is important, the Eagles also use it as a chance to cultivate competition and connection, holding basketball shooting competitions and bowling outings with all of the players and coaches last week.
While it remains to be seen how this method of offseason preparation can affect a team's in-season performance consistently over time, the results in Philadelphia last year are promising. If the Eagles prove that success can be obtained while emphasizing player health and safety, it could forever change how teams, especially teams who have seen entire seasons lost due to a litany of injures, approach the offseason.