After having made one blockbuster trade involving first-round picks, the Eagles might not be done. Albert Breer of SI.com writes that the Eagles could look to move back up in the first round.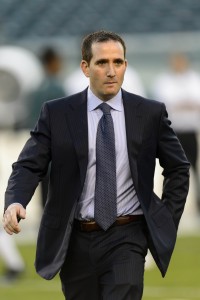 The Eagles currently sit with the No. 12 pick in the draft, and Breer writes that the team could spend assets to move into the top-10 while still coming out ahead (when combined with their deal with the Dolphins). The writer speculates that the front office could target a cornerback in a hypothetical trade-up scenario, although Breer doesn't discount the chances that the team would take a quarterback; this would be a significant pivot after the team selected Jalen Hurts in the second round of last year's draft.
Alternatively, Breer hints that the Eagles are also sniffing around at trade scenarios that would see them move back even further in the first round. If the Eagles are indeed seeking a cornerback, this path would make some sense, as there's a chance the team is perfectly fine with any of the top-three players at the position (Jaycee Horn, Patrick Surtain, Caleb Farley).
Either way, it sounds like the No. 12 pick could be on the block, and that particular selection has switched teams multiple times this offseason. That selection was originally owned by the 49ers, and it was sent to Miami (along with a 2021 third-rounder and first-round picks in 2022 and 2023) in a trade that brought the No. 3 pick to San Francisco. Then, Miami went and traded that No. 12 pick (plus a 2022 first-round pick) to the Eagles for No. 6 and No. 156.
Photo courtesy of USA Today Sports Images.