A key Eagles rookie appears to be nearing his return. Second-round offensive lineman Landon Dickerson has been activated off the NFI list, the team announced Monday.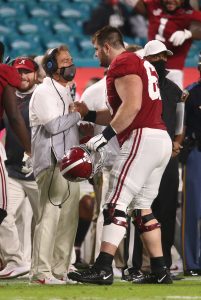 It means Dickerson should be ready to make his pro debut sooner rather than later. If he had stayed on the NFI list he would've had to miss the first six games of the season, which means the Eagles expect him to be ready before then. Dickerson was a star center at Alabama, and was a unanimous All-American for his work this past season. Also the winner of the Rimington Trophy for the nation's top center, he unfortunately tore an ACL in the SEC Championship Game.
Without the ACL tear he likely would've been a first-round pick, but the Eagles were able to scoop him up at No. 37 because of it. Philly insisted all along that they didn't view 2021 as a redshirt year for Dickerson, and clearly they meant it.
It's been reported that the team initially drafted him with intention of moving him to guard, but this summer they reopened the possibility of him playing at center. They of course still have Jason Kelce at the pivot, but he'll turn 34 in November.
Photo courtesy of USA Today Sports Images.