The Eagles using a second-round pick on Jalen Hurts raised eyebrows last year, and it ended up being a precursor to the end of an era.
While other factors contributed to the five-year Doug Pederson–Carson Wentz run abruptly ending, the since-fired head coach said the Hurts move was not part of a plan to develop Wentz's heir apparent. It is rather remarkable that the Eagles taking Hurts 53rd overall preceded such swift fallout, considering the Alabama/Oklahoma product's status as Philly's long-term starter remains uncertain. But less than a year after the pick, Pederson is unemployed and Wentz is in Indianapolis.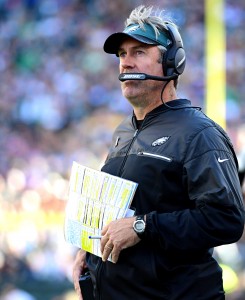 "You go into drafts and you go into each year looking for quarterbacks," Pederson said during an appearance on SiriusXM NFL Radio (via NFL.com). "And we continued to look for quarterbacks, and that's always something that will never change. We won a Super Bowl with our backup quarterback. And we've had to play with our backups a couple of times in Philadelphia.
"So we did that a year ago and brought in Jalen Hurts — not to undermine Carson Wentz, not to do anything to take away his job or anything because Carson was our starter. He was the franchise and all that moving forward. But (we wanted) someone that could come in and could be the backup and learn how to play the NFL game — bring his talent to the Philadelphia Eagles."
Pederson ended up benching Wentz in early December, following a rough stretch for the former No. 2 overall pick. A rash of injuries affected both the Eagles' offensive line and their receiving corps, and Wentz's play predictably worsened. The benching led to a fracture between Wentz and Pederson.
The Eagles then parted ways with both, ushering in a Hurts-Nick Sirianni pairing — barely a year after the team narrowly lost a wild-card game. Though the Eagles were believed to be interviewing candidates with an eye on jump-starting Wentz, making an ex-Frank Reich lieutenant a logical option, the franchise quickly went in a different direction.
"And really as the season began, things just started to kind of I guess spiral out of control," Pederson said. "Injuries began to set in. We weren't playing very well. Turnovers offensively, just a number of things, penalties, more injuries compounded problems, and it just became harder and harder as the year wore on.
"… It's just unfortunate for me because I was hoping to really have an opportunity to fix the issues that we had and kind of get everything back on track — whether it was going to be this year or the next year. And, obviously, that didn't happen."
Pederson, 53, said he will attempt to land a second head coaching job. He discussed Seattle's offensive coordinator position, but that was the Super Bowl-winning HC's only known link to a 2021 gig. The Eagles added a 2022 first-round pick in trading down with the Dolphins this year. Barring an injury that prevents Wentz from taking 75% of Indy's 2021 snaps, the team is in line to collect another from the Colts in the Wentz trade. This would give Philly a good opportunity to draft Wentz's true successor, if Hurts fares poorly this season.
It is unclear how well Hurts will need to play to prevent the Eagles from entertaining another first-round quarterback pick, but given that he was not drafted with a QB1 role in mind, Philly figures to be linked to 2022 QB prospects.
Photo courtesy of USA Today Sports Images.