Jalen Ramsey is on the block, and just about every NFL team is interested, as Josina Anderson of ESPN.com tweets. Specifically, the Chiefs, Ravens, Vikings, Raiders, Eagles, and Seahawks have all made "substantive inquiries" on the Jaguars cornerback, Anderson reports.
At this point, it feels like a certainty that Ramsey will be traded. And that deal is expected to go down soon. The Jags are reportedly hoping to move Ramsey on Friday, though he'll still suit up for Thursday night's game against the Titans.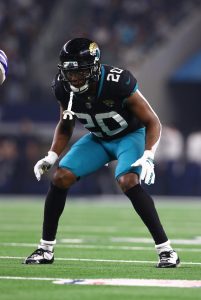 In an interesting twist, the Titans also expressed interest in Ramsey, Dianna Russini of ESPN.com (on Twitter) hears, though the price proved to be too high for them and some other interested teams. That, sadly, rules out a scenario like the famed 1978 76ers/Nets trade that saw Eric Money (real name) play, and score, for both teams in the same game (kidding).
In any sport, it's dicey to put a player on the field when he's on the verge of being traded. That's especially true in football, but if this week's rumblings are true, then the Jaguars will be willing to roll the dice for their national TV game against Tennessee.
After that, Ramsey will likely suit up for another club, but he won't be eligible to play twice in the same week.
Photo courtesy of USA Today Sports Images.