Let me start by saying that I was not the biggest fan of "The Process." The losing on purpose mentality never sat well with me in a city that, even when the Eagles are supposed to be bad (like this year) and they actually are bad, are absolutely sick to their stomachs. Yet, I can't argue the truth. The Process worked. It might not have been as smooth as maybe the Celtics or the Clippers. It certainly was getting as much negative publicity as what Sam Presti is doing in OKC.  Yet, it worked. During that time you acquired a top 10 player in the NBA who has a chance to be the best player in the NBA in Joel Embiid. You also drafted an exceptional Magic Johnson type player in Ben Simmons. Much better than watching Jrue Holiday and Elton Brand. The term "Trust the Process" ended on May 9th, 2018 when the Sixers lost in five games to the Boston Celtics. Expectations weren't high that year and we had made the playoffs and won a series for the first time since 2012. The Sixers and their fans were just happy to be there. After that moment The Process was dead and their expectations were realistic. 
Since then it obviously has not been smooth sailing. 3 straight years of tough/disappointing playoff performances. Along with three complete roster changes, 2 head coaches, 4 GMs, and even superstars like Jimmy Butler fleeing for greater pastures. Yet, I am writing to you today that even though I and all other Sixers fans are not happy about the results, this is nothing new in the history of the NBA. If you go and look back at almost any all-time great player/team, their trajectory to basketball glory was not a quick one. The graph below proves that.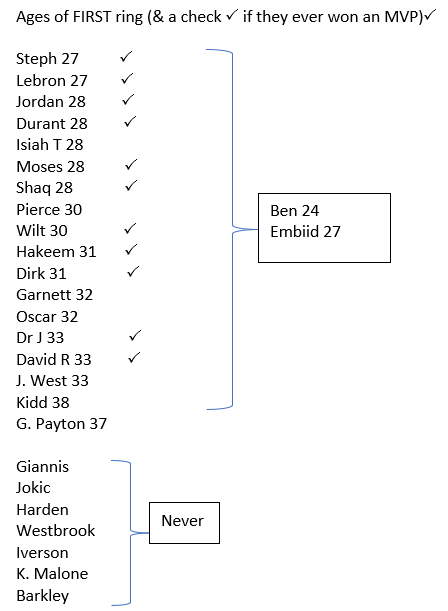 This was actually commented on in the last article that I wrote (credit to @StockRanks). To summarize the graph: This a list of some of the all-time greats in NBA history and how old they were when they won their first ring. The youngest up there is Steph Curry at the age of 27. Embiid is 27 years old. That means Embiid is entering the lowest of ages that an NBA superstar has won a championship. I could go player by player to show you how much of a struggle each player went through before they finally broke through and won a ring.
Steph Curry battled ankle injury year after year and never made It past the 2nd round of the playoffs until 2015.
Jordan for the first 8 years of his career couldn't get past the Celtics, Bucks, and the Bad Boy Pistons till he finally broke through in 1990.
Lebron couldn't get past the Pistons until he finally did in 2007, just to get swept in the NBA Finals by the Spurs and then couldn't get past the Celtics. Left for Miami and lost in another NBA Finals to the Mavericks till he finally broke through in 2012.
Shaq and Penny were supposed to dominate the NBA for years and they made one NBA Finals in 1995. They got swept by the Houston Rockets and the next year after that they got swept by the Bulls. Shaq then leaves for the Lakers and doesn't make the NBA Finals for the next 3 years before finally breaking through in 2000. He was swept twice in those 3 years.
Dirk had a chance early in 2006 but blew a 2-0 lead to the Miami Heat in the 2006 Finals and had 4 straight years of disappointing playoff performances including getting knocked out by the 8th seed in 2007. Dirk finally broke through in 2011 against the Miami Heat.
Jerry West was in year 12 of a 14-year career. West was at that point 0-7 in NBA Finals and at the twilight of his career finally broke through in 1971-1972.
I think you guys get the point. The Sixers struggling isn't anything new in the historic aspect of the NBA. Every year only one team celebrates by hoisting the Larry O'Brien Trophy while the other 29 head home disappointed. Now I don't want this to come across as that the author of our story will automatically bless the Sixers with a championship. I am conveying that Sixers fans need to understand that this isn't something new in the NBA, and even to Sixers fans, as it took Julius Erving 7 years to finally achieve basketball euphoria.
There are always exceptions like Dwayne Wade, Tim Duncan, Larry Bird, and Magic Jonhson. Wade had Shaq and Pat Riley. Duncan had Robinson and Popovich. Magic had Kareem. I got no excuse for Bird, that man was just different. The point is there is always an outlier. 
If you look back at the chart there are plenty of names in today's NBA that are still looking for their breakthrough. The truth is they may never get it. Guys like James Harden could go down as the greatest player ever not to win a championship just like Karl Malone did when he retired. He sure has had his chances, yet it just was never his time as he had to go against the Warriors every year just like Malone had to go through the Bulls. It seemed like this was the year for Giannis. The doors had finally opened after multiple playoff failures over the past 2 years. Up 2-1 in the Eastern Conference Finals and he goes down with a knee injury. Just not fair. 
Then I look at Chris Paul. Every year he was ridiculed in the playoffs for underperforming. In the years where he played out of his mind he, of course, got injured like in 2017 vs the Warriors. Yet, in year 16. Year 16!!! At the age of 36, he finally reached his first NBA finals. 
It's guys like that that make me believe that one day Ben Simmons and Joel Embiid will be hosting that Larry O'Brien trophy on Broad Street. So if Sixers fans want to get rid of Ben Simmons for Damien Lillard, fine. Their mind has already been made up. 
The Process died on May 9th, 2018. Yet the main characters of The Process are still here. Through three complete roster changes, 2 head coaches, and 4 GMs, Ben Simmons and Joel Embiid are still Sixers and I would like to keep it that way. Their story hasn't even reached the middle of the book.
The post Trust the History of the NBA appeared first on Philadelphia Sports Nation.