10:59am: The Nets and Hawks are among the other teams likely to pursue Tucker, reports Kristian Winfield of The New York Daily News. While Tucker and Kevin Durant are friends off the court, Brooklyn would be limited to offering the taxpayer mid-level exception, so Tucker would have to take a pay cut to join the Nets.
---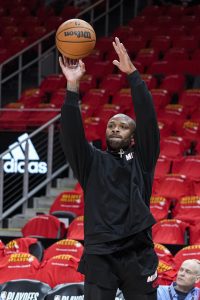 10:13am: With P.J. Tucker set to decline his player option and reach unrestricted free agency next week, multiple contending teams will pursue him, according to Chris Haynes of Yahoo Sports (Twitter link), who says those clubs are expected to be willing to offer the full mid-level exception in an effort to land the veteran forward.
Shams Charania of The Athletic reported on Monday that Tucker would turn down his option with the Heat, which would have paid him $7.35MM for 2022/23.
Despite having turned 37 years old this year, Tucker is in position to earn a raise after a strong season in which he averaged 7.6 PPG, 5.5 RPG, and 2.1 APG with a .415 3PT% in 71 regular season games (27.9 MPG) and was just as good in the postseason, playing tough, versatile defense for a Miami team that got to within one game of the NBA Finals. This summer may represent his last chance at a big payday.
Although Haynes doesn't name any specific teams that are expected to be in the mix for Tucker, he'd be an ideal fit for virtually any team with playoff and/or championship aspirations.
Of course, it's worth noting that using more than the taxpayer portion of the mid-level exception hard-caps a team at the tax apron for the rest of the league year. That means projected taxpayers such as the Warriors and Clippers will only have access to the taxpayer mid-level (projected to be worth $6.39MM) rather than the full MLE (projected to be worth $10.35MM), limiting their ability to make a competitive bid for Tucker.
One team that has been linked to Tucker already is Philadelphia — ESPN's Brian Windhorst reported the Sixers' interest during a TV appearance and Keith Pompey of The Philadelphia Inquirer has since shared more details, writing that the club is shopping several players, including Tobias Harris and Matisse Thybulle, along with the No. 23 pick as it looks to create cap flexibility to pursue Tucker.
Unless James Harden takes a massive discount in free agency or they can move Harris in a salary-dump deal, the Sixers are unlikely to actually open up any cap space, but shedding some salary would help create breathing room below the tax apron, allowing them to use the full mid-level exception. Pompey hears from multiple sources that Philadelphia intends to make Tucker a three-year, $30MM offer, which would fit within the non-taxpayer MLE.
Because the Heat only hold Tucker's Non-Bird rights, they wouldn't be able to offer him a starting salary higher than $8.4MM without using their mid-level exception. They should have enough room below the tax apron to offer Tucker their full $10MM+ MLE if necessary, though that would reduce their options when it comes to re-signing Caleb Martin or pursuing outside free agents.