NBA teams have now completed the brunt of their offseason work, with the draft and free agency practically distant memories. Still, with training camps more than a month away, many clubs around the league have at least one or two outstanding issues they've yet to address.
Over the next week, we'll be looking at all 30 NBA teams, separating them by division and checking in on a key outstanding question that each club still needs to answer before the 2019/20 regular season begins.
We're starting today with the Atlantic division, so let's dive right in…
Boston Celtics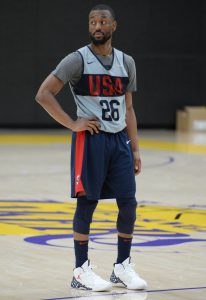 How will the Celtics' World Cup contingent respond to the experience?
Six Celtics players are set to represent their respective countries at the 2019 World Cup in China, starting this weekend, including four for Team USA.
Boston's top priority will be making sure that Kemba Walker (USA), Jayson Tatum (USA), Marcus Smart (USA), Jaylen Brown (USA), Vincent Poirier (France), and Daniel Theis (Germany) make it through the tournament healthy. But the team will also be curious to see how its international contingent performs in China and is affected by the experience.
A strong World Cup showing for a player like Poirier or Theis could increase his confidence heading into the 2019/20 season and put him in position to take on a more prominent rotation role. Meanwhile, a run at a gold medal could help the Team USA group develop the kind of on- and off-court chemistry that last year's Celtics never quite had.
Brooklyn Nets
What's next for second-round pick Jaylen Hands?
One of just four second-round picks who remains unsigned, Hands doesn't project to be part of the Nets' regular season roster for 2019/20. The club already has 15 players on fully guaranteed contracts and is unlikely to cut one of its veterans for the No. 56 overall pick.
The logical place for Hands to begin his career would be in one of Brooklyn's two-way contract slots, where he'd spend much of his rookie season developing his game with the Long Island Nets in the G League. Henry Ellenson currently occupies one of the Nets' two-way slots, but the other one is open.
Still, there were rumblings that Brooklyn had interest in Ron Baker as a potential two-way player before he headed overseas. And if the Nets had that second two-way slot earmarked for Hands, it seems like the two sides would have completed a deal by now. It's still possible that he'll end up on a two-way deal, but it's far from a certainty — we should find it in the coming weeks what the team has in mind for the rookie out of UCLA.
New York Knicks
Does Frank Ntilikina have a place in the Knicks' plans?
NBA teams have completed a total of 43 trades so far this offseason, but not one of them involved Ntilikina, who was among the league's most frequently cited trade candidates heading into the summer.
The Knicks didn't land the star free agents they were hoping for, but they reshaped their roster with a series of veteran signings in early July, jettisoning all of their own free agents. As New York goes through a transition period, it remains to be seen whether the club will recommit to finding out what it has in Ntilikina or whether his inevitable departure has just been delayed.
Shortly after the regular season begins, the Knicks will have to decide whether or not to exercise Ntilikina's fourth-year option for 2020/21. But if the club revisits the trade market this fall, it's possible another team will be making that decision on the the former lottery pick.
Philadelphia 76ers
Do the Sixers plan on making Trey Burke their 15th man?
Currently, the Sixers have 14 players on fully guaranteed contracts, leaving a potential spot open on the team's projected 15-man regular season roster. However, that count doesn't include Burke, whose salary for 2019/20 is said to be partially guaranteed.
Although Burke appears likely to be Philadelphia's 15th man, the specifics on his deal remain a question mark — if his partial guarantee isn't significant, he's not necessarily a lock to make the team.
The 76ers signed Raul Neto as a backup this offseason and may rely on Shake Milton to play a larger role behind Ben Simmons as well. If the team determines that it has a more pressing need at another position, perhaps it brings in someone else to fill that 15th and final roster spot.
Toronto Raptors
Will Pascal Siakam or Kyle Lowry sign an extension?
The Raptors have two of the more intriguing extension candidates in the NBA, as Siakam and Lowry each project to be top-10 free agents on the 2020 market if they don't get new deals before then.
Lowry, who is eligible for a veteran extension, recently said that he'd "love" to sign a new deal to remain in Toronto rather than reaching unrestricted free agency next summer. It's unclear whether he and the club will see eye-to-eye on his value though as his 34th birthday nears.
As for Siakam, he's among the top candidates for a rookie scale extension. However, given the dearth of talent on the 2020 free agent market, he may only be willing to ink a new deal if he gets a max salary or something close to it — after all, he can reasonably expect to get offers in that range next summer if he continues to improve.
Siakam will certainly be a part of the Raptors' long-term future. Since we can't definitively say the same about Lowry, the up-and-coming forward is probably more likely to be extended within the next couple months than the veteran guard.
Photo courtesy of USA Today Sports Images.