During a meeting in Los Angeles last week, Sixers star Ben Simmons told team owner Josh Harris, president of basketball operations Daryl Morey, general manager Elton Brand, and head coach Doc Rivers that he doesn't want to be part of the team any longer, according to Keith Pompey of The Philadelphia Inquirer.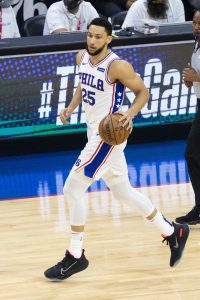 Sources tell The Inquirer that Simmons doesn't plan on reporting to training camp with the 76ers in four weeks.
According to Pompey, the Sixers' brass told Simmons they want him to come to camp and be part of the team, but the three-time All-Star – who knows he can be fined for not showing up – apparently intends to take a drastic approach in the hopes of forcing the team's hand. Money won't be a factor in Simmons' decision-making, a source tells Pompey, who notes that the 25-year-old has four years and nearly $147MM left on his contract.
Simmons has been considered a trade candidate since the 76ers' season ended in the second round of the playoffs against Atlanta. The former No. 1 overall pick turned in a poor performance against the Hawks, showing a reluctance to shoot or even to have the ball in his hands late in games. He made just 15-of-45 free throws in the seven-game series vs. Atlanta and connected on only 34.2% of his total foul shots in the playoffs, the worst mark ever for a player with more than 70 attempts in a single postseason.
Although the 76ers have publicly indicated all summer that they're happy to bring back Simmons and work with him on improving his game, the team has reportedly engaged in trade talks with several potential suitors, including the Timberwolves, Raptors, Cavaliers, Pacers, Kings, Spurs, and Warriors. A Monday report suggested that executives around the NBA believe it's just a matter of time before Philadelphia pulls the trigger on a trade.
[RELATED: Ben Simmons "In Step" With Sixers' Trade Efforts]
The Sixers' efforts to find a suitable deal for Simmons have been hindered by Morey's high asking price, per Pompey. Simmons' lack of a jump shot and his significant struggles in the postseason have caused his trade value to diminish, but Morey has sought a trade package commensurate with a 25-year-old who has made three straight All-Star teams and remains under contract for four years. Pompey's sources are skeptical that price will be met.
"Think about three months ago when the Sixers are willing to give up Ben Simmons. You are like, 'Let's see what we have to do to get him,'" one Western Conference executive told The Inquirer. "Now, the difference is Ben Simmons says he refuses to play for the Sixers. He wants to go to three California teams. There's so much bad blood between him and the team. … I'm not giving you what you're demanding."

[RELATED: Warriors Rejected Sixers' Offer Of Simmons For Wiseman, Wiggins, Four First-Round Picks]
As we've written multiple times in recent weeks and as Pompey notes in today's report, the belief around the NBA is that the Sixers have been hoping Damian Lillard will request a trade from the Trail Blazers, putting Philadelphia in position to use Simmons as a centerpiece in an offer for Portland's star point guard. However, all indications this month are that Lillard appears content to continue evaluating the Blazers' present and future this fall.
If the Sixers feel compelled to get a deal done sooner rather than later, targeting another Blazers guard – CJ McCollum – might make sense, Pompey writes. However, he cautions that both teams highly value their own stars, which may make it difficult for them to find a deal that appeals to both sides.
The Simmons situation is similar to one Morey's old team in Houston found itself in a year ago, when James Harden requested a trade during the offseason and didn't report to the Rockets for the start of camp. Harden eventually showed up and began the year with the Rockets, but was traded less a month until the season.
Morey's Sixers were in the mix for Harden right up until the 11th hour, offering a package headlined by Simmons. Less than eight months later, Morey will have to consider whether to let Simmons' trade request linger into the season like the Rockets did with Harden's, or if it makes more sense to complete a deal before training camp — even if the return falls well short of Philadelphia's initial asking price.